BBQ Game
The warm season is the perfect time for entertainment and outdoor recreation. You can go out of town, take a walk in the park with friends, or organize a BBQ party right in your own backyard. But to fully experience the beauty of outdoor relaxation and recharge your energy, in addition to food and drinks, it's worth taking care of activities, and QB54 game is the best option here.
It is the best BBQ game! It's suitable for any gender and age, and will definitely entertain you!
If you are looking for a universal way to have fun outdoors, interesting lawn games, or picnic games, you won't find anything better than QB54! This BBQ game will definitely change your idea of a cool pastime with friends or family!
Features of QB54 BBQ game
Another name for QB54 is the football chair game. Two camping chairs are set up on the game field. Each of them has a basket built into the center, and football goals above the chair. You can agree to throw or kick the ball, earning points for your team. The universal design allows you to choose any type of outdoor BBQ game, basketball or football. This game will be interesting for all participants.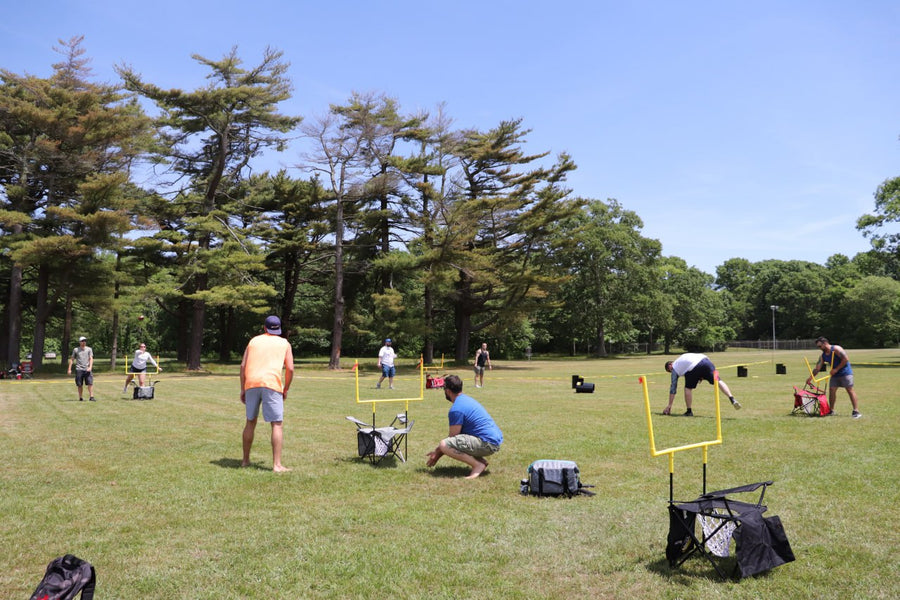 How to play QB54
Family backyard BBQ games should have simple and easy-to-understand rules. QB54 is the perfect option. First, place camping chairs opposite each other, with a distance of forty feet between them, or depending on the players' skill and preference or size of the available space in the yard.
A team can consist of a different number of players – for example, two on two, or three on three. Also this game can be played one on one.
How points are scored
• Hitting the Chair – team/player gets 3 points;
• Player throws ball into basket (touchdown) – team/player gets 6 points;
• Touchdown, or kicking through goalposts scores extra point;
• If the ball bounces on the ground from the throw and lands in the basket, the offensive team gets 2 points;
• Defending team can earn 3 points if they catch a rebound from the chair before it hits the ground.
Usually, the team should throw the ball or hit the goal. Distance is measured in paces. Subtract the winning score by the losing score to determine the paces. For example, if the number of points scored was 30, then it is subtracted from 54: 54-30=24. That is, you need to throw the ball into the basket/goalposts with 24 paces. A total miss will result in a loss. If hit, the team has a chance to win.
Thus, the rules of the outdoor BBQ games are truly simple, so the game process will be exciting for both adults and children.
When the leading team reaches 12, 24, 36, or 48 points, teams/players switch sides. The first team to reach 54 points wins. The losing team has the right to a bonus throw.
OUR BIGGEST SALE
OF THE SEASON!
Based on 214 Customer Reviews
OUR BIGGEST SALE
OF THE SEASON
🏈 QB54 is Taking the World By Storm! The Hottest Game on the Market!

🏈 Each Game Set is action-packed!Highly Addictive!

🏈 QB54 has all the elements of football without the CONCUSSIONS!

🏈 When finished form into 2 usable chairs that support up to 275 lbs each!
Those people, who prefer outdoor activities, like QB54 game for its practicality and ease of use.
The set includes a ball and 2 chairs, that fold out in seconds! The main elements of the game, the basket and the goalposts, have already been installed. Place the chairs on any flat surface (lawn, sand, etc.), and you can start the game.
Chairs are made of durable and wear-resistant polyester. It does not absorb moisture. The chair is equipped with comfortable armrests and can easily support up to 275 pounds, so you can fully relax after an active yard game.
Thanks to anti-slip elements, the legs of the chair do not fall into the ground and stand securely on the surface. The main frame and the goalposts are combined into a single structure, which is made of durable metal coated with an anti-corrosion protective coating.
The game set also includes a 9-inch ball, exactly the same used in rugby. It is made of soft composite leather, which provides good grip with the hands, and the well thought-out shape provides the necessary aerodynamics. Inside the ball, there is a latex air chamber, so when it deflates, it can be inflated with a pump. Your BBQ game can become unique due to the different color shades of QB54 set, so choose the appropriate game set and enjoy!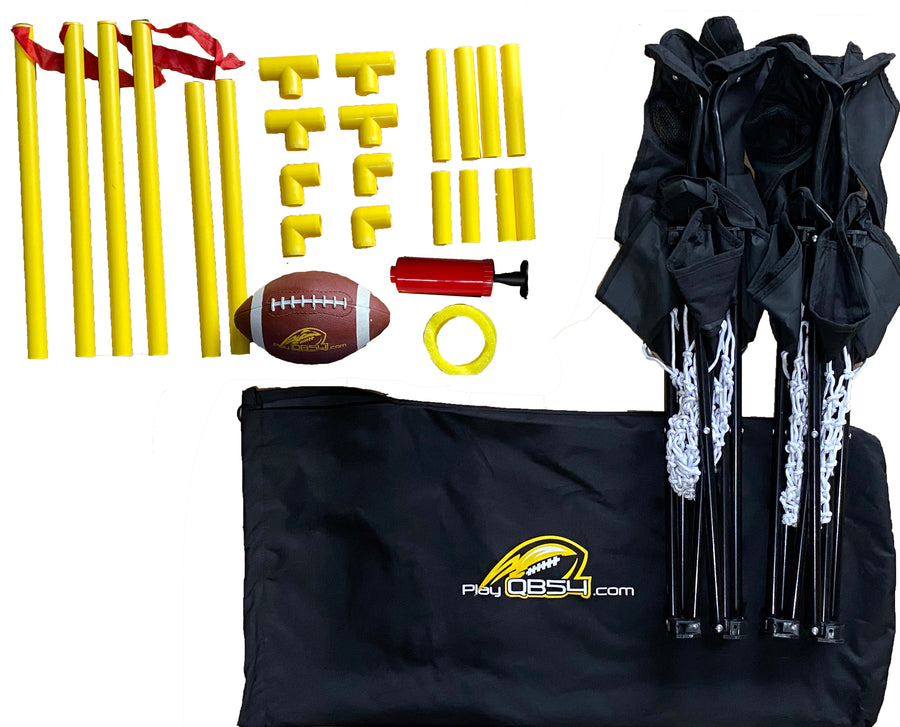 Advantages of QB54
Play this game once and make sure it's a TOP game! And here's why.
Suitable for all ages
Simple rules and an engaging game process will be interesting for active adults and kids. At the same time, you can simplify the game by choosing a shorter distance between chairs.
Functionality
QB54 chair design allows you to play basketball by throwing the ball into the basket, or football by kicking the ball into the goalposts set up above. And after the game, the chairs can be used for their intended purpose, to relax while waiting for BBQ snacks to be prepared.
Stylish design
QB54 sets come in stylish shades of silver, red, dark green, black, and more. Limited edition options are also available. Each set comes with a bag for convenient storage.
Ease of use
The design of the chairs is thought out to the smallest details, so they unfold and fold easily. Thanks to fabric seats, they are very compact and won't take up too much space in your home, car, or even backpack.
Durability
BBQ game QB54 is made of high-quality, durable materials that will last for years. The metal elements of the construction are corrosion-resistant, and the chair seats are water-resistant, so they won't get wet if it rains.
Low level of injury
If you follow the rules of the game, the playing process will be safe. The durable covers of chairs' leg prevent them from slipping on wet grass or sinking into the ground. Each chair can easily support up to 275 pounds.
Ability to play anywhere and with any number of players
Are you only two people? There's no need to gather a team! It is very interesting to play this game one on one! QB54 can be played at a backyard BBQ party, at a picnic, on a sports field, and even on the beach. All you need is to place chairs opposite each other, and you're ready to go!
It can also be used as a warm-up tailgating game. You can set up chairs anywhere and play with your friends before watching American football match. In addition, it can be used for professional trainings. QB54 comes with the same ball as in rugby, so you can train accuracy, agility, and speed. The chairs can be set up outdoors or indoors, and you can train regularly.
Another important advantage of QB54 is that it provides a fun activity to enjoy with family and friends. Active team games can bring people together and provide a lot of positive emotions!
Who came up with the QB54
Where did QB54 come from? It was invented by Frank and Michael Silva from New Jersey, who loved to have fun since childhood and constantly invented entertainment for themselves. It was their idea that gave the world another type of activity, which is becoming more and more popular every year.
The boys were 12 and 9 years old when they were left home alone on Thanksgiving. The brothers watched football on TV, but soon they got bored with it. So they decided to play football together, using trash cans instead of goalposts. The guys set them opposite each other and started throwing balls. After 3 hours, Frank came up with the idea to use a chair instead of cans. That's when the TOP BBQ game was invented. The Silva brothers called it "Thanksgiving Classic".
Of course, the parents did not approve of such an idea. But the game and the passphrase became popular among their friends. The number 54 was taken at random. The guys often watched team games, where the team that reached 54 points first, won. But the creators claim that there is no need to use this particular number.
The brothers have grown up, but even now, when they hear the phrase "Thanksgiving Classic", they go to play the game. This once again proves that there is always time for entertainment!
In 2016, the Silva brothers created an online shop, and they continue to improve the QB54 game for over 30 years. It has become a real classic, these BBQ party games are easy to play, exciting and interesting!
Frank and Michael create a variety of game sets and help with the choice, answering all questions. Each QB54 game set has a unique design with a striking logo. Color shades range from black to bright red, and the goal construction is painted in a contrasting color.
It is easy to order a set for the game. You just need to decide on the design of the chairs and the ball and place an order on the website. If you choose BBQ games for families, you will get positive emotions and good mood! Don't mind your age, move and have fun. Play QB54, and have a great time with your friends and family!